Hundreds attend memorial for Newport family in Mecca taxi crash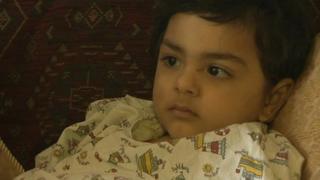 The only survivor of a car crash has attended a memorial service for five members of one family killed on a pilgrimage to Mecca in Saudi Arabia.
One-year-old Mohammed Eisa Daniel has been called a miracle baby after surviving the taxi crash on 8 February.
Shaukat Ali Hayat, 56, his wife Abida, 47, eldest son Mohammed Isshaq, 33, his heavily pregnant wife, Bilques, and daughter Saira Zenub from Newport died.
Hundreds attended the service for the five in Newport.
The five were killed on a pilgrimage to Mecca, Saudi Arabia.
It was reported their cab hit a concrete bridge, somersaulted off the road and ended up in a ditch.
The family had been in Saudi Arabia as part of the Umrah, a pilgrimage to Mecca by Muslims at any time of the year.
They were travelling to Jeddah to meet relatives four hours away, the South Wales Argus reported.
The newspaper said one of the family members killed was due to be married this weekend.
Rescuers initially thought the whole family had died, but they found Shaukat Ali Hayat, 56, cradling one-year-old Mohammed in the wreckage.
The baby suffered a dislocated shoulder and a broken arm and ribs, said the paper.
Shaukat Ali Hayat's brother, Hayat Shazada, said he was shocked and devastated by the loss of members of his family.
"Obviously he (Mohammed) is in a traumatic state by losing the entire members of his family - his mother, his father, his brother, sister-in-law and his beloved sister he's lost as well," said Mr Shazada.
Mr Shazada said people in Saudi Arabia had dubbed his nephew a miracle baby and the angel of Saudi Arabia.
"Everybody wanted to come and see him because the car crash was so horrific that they said if there was a fly flying around in that car that would not have survived," he added.
"How he survived is a miracle.
"One of the most important things is that his grandfather held him in his arms so tight and took the brunt of the impact.
"We're grateful that the community has rallied around to help us in this hour of need."
The family had been involved in a charity work in and around Newport and in 2010 they helped raise funds for victims of flooding in Pakistan.
They were buried in Jannat-ul-Baqi cemetery in Medina. The burial was attended by about 20 relatives who had flown out to Saudi Arabia.
The graveyard is a holy site for Muslims with wives and relatives of Islamic prophet Muhammad buried there.