Priest relishes challenge of ministry at Maerdy, Rhondda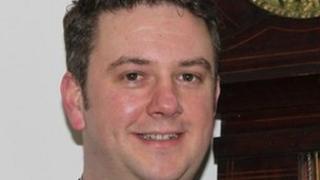 The new vicar for a Rhondda community which lost a long fight to save its church says he is hoping to start a new chapter there.
The Reverend David Jones, 39, has become the priest-in-charge of Rhondda Fach Uchaf, which includes Maerdy.
Campaigners staged a sit in at the now-closed parish church in Maerdy in 2011.
Maerdy also emerged as one of the least religious places in the last census, but Mr Jones said he is relishing the challenge of his ministry.
He officially took up the role on Friday when he was licensed at St Dunstan's Church in Ferndale, one of the other communities in his parish.
His first services - there and Tylorstown - are taking place this weekend.
Care worker
He said: "I am very excited at coming here and am looking forward to meeting people and seeing how the community ticks. It's a new chapter for me and for the parishioners."
The priest, who is originally from Gorseinon, Swansea, joins the parish after having served as a minor canon at Brecon since 2008.
He worked a care worker for adults with special needs before his ministry training and was ordained in 2006, serving first as a curate in Llansamlet.
Mr Jones said he was not at all daunted at taking over the Church in Wales ministry in Maerdy.
Figures from the 2011 Census showed 52% of people in the area say they have no religion, but he said he was not deterred.
"I am quite people orientated. People make me tick. I don't like books very much," he said.
Last year parishioners in Maerdy - a community once known as Little Moscow because of its association with the communist party - gave up their struggle to try to save All Saints Church.
The Church in Wales had agreed to lease the building to local people after a month-long sit-in, but parishioners then found they could not afford £400,000 repairs, and they handed back the keys.
'Faith and confidence'
Mr Jones said he was looking forward to having face-to-face meetings with people and it did not matter that there was no longer a physical church in Maerdy.
He said: "I think people here still see the church as an important part of the community, whether they attend services or not, and I am here to serve them all."
Archbishop of Wales Barry Morgan welcomed Mr Smith to the diocese and the parish in the "vibrant deanery of the Rhondda".
"David is a talented priest with a track record in making connections with a cross-section of people," said Dr Morgan.
"I know that he will work well in this parish helping the churches and community grow together and move forward with faith and confidence."