Caerphilly bogus compensation claim: Leon Wells jailed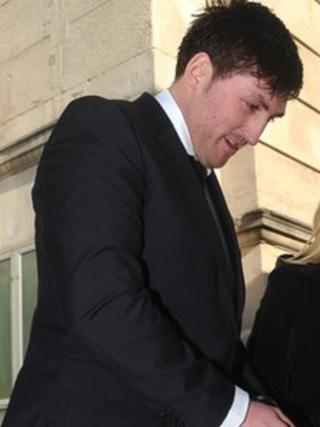 A former soldier has been jailed after making a bogus £28,000 compensation claim for injury against a council.
Leon Wells, 30, of Abertysswg, in Caerphilly county, made up two witnesses to support the case he brought three years after falling down a set of steps.
He said his claim had taken so long as he was serving in Afghanistan, but he was actually in jail for manslaughter.
Wells was sentenced at Cardiff Civic Justice Centre to four weeks in prison.
The court found his case against Caerphilly council to be fraudulent and based on false evidence, and he admitted contempt of court.
Gareth Compton, prosecuting, said: "In pursuing his claim for personal injuries, Wells fabricated two witnesses to the accident.
"He claimed one witness assisted him and the other gave him a lift home. But when asked about these claims one witness said he knew nothing of the accident while the other gave a surprisingly vague and differing account."
The court heard that Wells, a former Royal Engineer, had been in the Army from the ages of 16 to 21, serving in Macedonia and Sierra Leone. He left due to stress and started work as a plumber.
Wells fell down a set of stairs while on a run in 2006 and suffered a tear in his knee.
In 2008, he killed a 45-year-old man in a fight outside a pub, and was sentenced to three years for manslaughter.
After being released from prison in 2009, he filed a claim against Caerphilly council, saying his previous knee injury was a result of its neglect.
The case was about to go to trial but on the first day he withdrew his claim, incurring legal costs of £61,000. The council then launched its own case against him.
'Alarm bells'
Simon Goodman, defending, said: "There was an injury but it was the causation which was disputed by the council.
"This was a genuine claim which Wells falsely bolstered, he stupidly, foolishly gilded the lily. This is not a man with a history of deception and dishonesty, and he apologies for misleading the court."
Mr Justice Wyn Williams told him: "Parts of your claim were fraudulent, parts of your evidence were dishonest.
"You made up two witnesses to bolster your case, making up falsehoods of this kind must be dealt with extremely seriously. I have no choice but to pass an immediate custodial sentence for this contempt of court."
After the hearing, Caerphilly council said the case had "set alarm bells ringing from the outset".
"Every penny paid out to fraudsters is a penny less to spend on vital local services to the people of Caerphilly," said council deputy leader Keith Reynolds.