Protest calls for asbestos-hit Cwmcarn school to reopen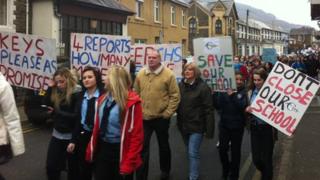 Hundreds of demonstrators have called for a school which closed amid warnings of asbestos to be reopened.
The protest follows a health and safety watchdog saying it had no immediate concerns over asbestos at Cwmcarn High School, Caerphilly county.
The Health and Safety Executive (HSE) said the school was essentially uncontaminated after a second round of tests.
But Caerphilly council is waiting for the results of further studies.
The council said a decision about reopening the 900-pupil school would be made within the next few weeks because of conflicting reports.
The school has been closed since October after a structural report identified asbestos in the main block.
Students are currently being educated 12 miles (19km) away at Coleg Gwent's Ebbw Vale campus.
The structural report by Santia Asbestos Management Limited said the asbestos posed a potential health risk, and the union Unison said demolition was the safest option for staff and pupils.
However, other reports since have said the level of airborne fibres was much lower than previously thought.
The HSE said the site was essentially free of asbestos contamination after a second round of tests, which some campaigners say should be enough to reopen the school, which also commissioned its own report.
They claim the council is using the asbestos as an excuse to keep the school closed.
Hundreds of people marched through the town on Monday morning in protest.
'Lack of clarity'
Parent Rhiannon Price said most children had adapted to travelling to Ebbw Vale but some had suffered from anxiety and panic attacks.
However, she added: "It's the future we need to think about now.
"We've got children due to take their options in September, we've got children in year 10 who are halfway through their GCSEs, we've got children in sixth form that need to continue their studies and need to be back at Cwmcarn to do so."
However, Santia and the council say they still have safety concerns about the school.
The council said the "divergent reports" had produced "a lack of clarity", adding "it is imperative that decision-making is based upon a clear and sound basis".
It has employed its own expert to analyse all the findings and report within the next few weeks.
A separate management survey has also been carried out and a report is expected within two weeks which will look at the options available.