Merthyr Tydfil council to lose education role after Estyn report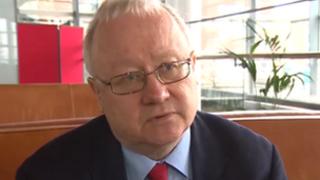 The education minister is removing Merthyr Tydfil council's responsibility for education after a highly critical report by the schools watchdog, Estyn.
Leighton Andrews said the authority had failed to respond to recommendations going back eight years and could not resolve the problems even with support.
Merthyr council leader Brendan Toomey said he was happy to discuss the way forward with appropriate organisations.
Government officials have contacted neighbouring Rhondda Cynon Taf council.
Mr Andrews said his "preferred option" was to merge the two councils' education services.
Other possibilities, he said, were to appoint commissioners to run the service, which has happened in Blaenau Gwent, or to bring in an outside body.
"I will not tolerate these reports and I have, and will continue, to take decisive action in the interests of learners in Wales," he added.
Mr Andrews said there were "systematic weaknesses in the authority" and that therefore he had "no confidence that Merthyr will resolve these problems itself, even with support".
He said Estyn had found the authority's performance to be "unsatisfactory" because "at all key stages, standards for learners are unsatisfactory, exclusion rates are too high, too many young people are not in education, employment or training, and attendance rates in primary schools are unacceptably low".
"Estyn judged Merthyr's prospects for improvement as unsatisfactory," he said.
"Senior officers and elected members of the council have not challenged underperformance or poor outcomes for learners.
"Officers have not provided reports to members that analyse performance data well enough to identify progress and key areas for improvement.
"The inspection team found that the local authority does not have in place a robust and continuous self-evaluation process for its education services.
"The inspection team concluded that the authority lacks effective systems to judge whether initiatives and services have a positive impact on children and young people or offer good value for money."
Merthyr Tydfil council leader Brendan Toomey said: "We recognise that there are significant challenges ahead for all who work within our education services in order to raise standards of attainment and achievement for our children and young people.
"The encouraging news is that we have many 'green shoots' and are clear about how to address the significant shortcomings. Already we have begun to implement our strategic plan and are beginning to see improvements.
"The minister has announced that discussions now have to take place in order to agree on the most appropriate model to deliver the changes needed. I am happy to work with appropriate organisations to achieve this result."
A spokesperson for Rhondda Cynon Taf council said it was in dialogue with officials of the education minister to "facilitate the delivery" of his proposals for Merthyr.