NASUWT criticises minister's action over Merthyr Tydfil education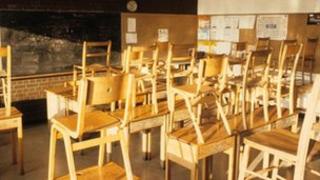 Wales' largest teaching union has accused education minister Leighton Andrews of acting in a "knee jerk manner" in removing Merthyr Tydfil council's responsibility for education.
The NASUWT union said the minister was trying to implement change "by the back door" despite a critical report.
Mr Andrews said the authority had failed to respond to recommendations going back eight years.
Merthyr Tydfil council said there are "significant challenges ahead".
Government officials have contacted neighbouring Rhondda Cynon Taf council.
Mr Andrews said his "preferred option" was to merge the two councils' education services following a report by the schools watchdog, Estyn.
But Rex Phillips, organiser for the NASUWT union, said he did not believe such action was needed.
"I believe the minister may well have acted as he normally acts in a very knee jerk manner over Merthyr," he told BBC Radio Wales.
"I don't believe that he needs to do this.
'No confidence'
"I believe the minister knows exactly what he wants from local government and what he is now attempting to do is carry out local government reorganisation by the back door by condemning or having local authorities condemned as failures and then putting in the proposals that he sees as the way forward."
The minister is also considering appointing commissioners to run Merthyr's education service, which has happened in Blaenau Gwent, or to bring in an outside body.
Mr Andrews said on Tuesday there were "systematic weaknesses in the authority" and that therefore he had "no confidence that Merthyr will resolve these problems itself, even with support".
He said Estyn had found the authority's performance to be "unsatisfactory" because "at all key stages, standards for learners are unsatisfactory, exclusion rates are too high, too many young people are not in education, employment or training, and attendance rates in primary schools are unacceptably low".
Merthyr Tydfil council leader Brendan Toomey said there are "significant challenges ahead for all who work within our education services in order to raise standards of attainment and achievement for our children and young people".
A spokesperson for Rhondda Cynon Taf council said it was in dialogue with officials of the education minister to "facilitate the delivery" of his proposals for Merthyr.