Police hunt for Prescoed prison absconders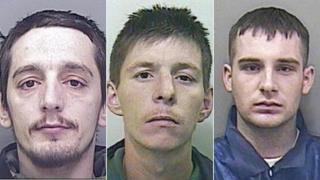 Police are searching for three men who have escaped from an open prison in Monmouthshire.
Stephen Booth, 34, Jason Morris, 38, and John Phillips, 28 went missing from Prescoed jail on Tuesday evening.
They have all been convicted of separate offences of robbery.
Gwent Police said there may be a potential risk because the men were no longer in custody and advised the public not to approach them.
None of the men are registered sex offenders.
Anyone with information about their whereabouts is asked to call 101 or Crimestoppers anonymously on 0800 555 111.