Traders' fears over new town centre in Rhondda Cynon Taf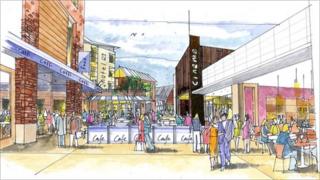 Traders fear plans for a new town centre given the go ahead near the M4 west of Cardiff will result in other businesses shutting.
The £200m project including housing, shops, offices, a cinema and a hotel will serve Llantrisant, Talbot Green, Pontyclun and surrounding villages.
Developers say it will create 1,900 jobs and is in line with Rhondda Cynon Taf council's local development plan.
But existing traders are concerned it will lead to job losses elsewhere.
Derelict sites including the former Purolite and Staedtler factories alongside the A473 have been earmarked.
The plans for the new town centre were granted outline planning permission last week by the council.
Developers say there is a "strong appetite" locally for the scheme.
But it has drawn opposition with concerns about the economic and social impact on the villages of Talbot Green and Pontyclun, as well as increased traffic.
Chambers of trade and commerce in Rhondda Cynon Taf and Aberdare opposed the plans, as did Pontyclun new town working group.
Gianni Orsi, former chair of Pontypridd Chamber of Trade, said there were "shopping centres every mile" in south Wales and "saturation point" had been reached.
"There's going to be an effect and there's going to be some closures somewhere," he said.
Competing businesses
"People will be spending some money there and not where they were spending it before.
"It will have an effect on jobs and businesses."
The first phase of the development features a supermarket and petrol station.
The rest of the scheme, which includes space for about 40 shops, along with restaurants, an eight-screen cinema, an 80-bed hotel, offices and 64 homes would come in phase two.
There would also be civic and community facilities in the town centre which will be built mainly on brownfield land alongside the A473, 10 miles (16km) north-west of Cardiff and close to the M4 motorway.
Valad and Scarborough development groups said they would improve local roads and transport connections as part of the scheme.
Andy Richardson, head of UK development at Valad Europe said a "major milestone" had been passed with the outline planning being granted.
He added: "Once complete, this major new development will provide a great boost to the local economy, increasing prosperity in the area and transforming it into an important hub for shopping and leisure, as well creating up to 1,900 new jobs."
Mark Jackson, managing director of Scarborough said: "During our consultation we were encouraged by the feedback from the communities of Talbot Green, Pontyclun, Llantrisant and the surrounding areas, who expressed a strong appetite for the development.
"It has been a long process to get to this point and we now look forward to progressing to the next stage of the project."