Prescoed Prison: MP meets staff over absconding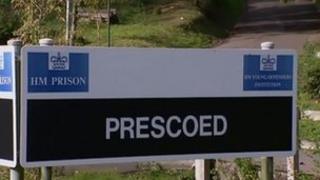 The Monmouth MP has held talks with officials at an open prison in his constituency where several inmates have absconded.
Three prisoners at HMP Prescoed, near Usk, absconded last week. In January, convicted murderer Brian Grady, went on the run for three weeks.
Conservative David Davies said he had received assurances inmates were carefully assessed before being moved.
The Prison Service called the meeting positive.
On Thursday, three men were arrested in the Newport area after absconding from the jail.
Stephen Booth, 34, Jason Morris, 38, and John Phillips, 28, all had separate convictions for robbery.
Last month, the killer Brian Grady, also left the prison unlawfully, while serving a life sentence for the murder of a man in Bristol in 2003.
Grady, 26, was finally recaptured on 4 February.
Mr Davies said he had questioned the risk assessments which allowed the prisoners to be moved to an open prison and said absconding seemed an "illogical" thing to do when they were shortly due for release.
"Those going into an open prison are assessed and put there prior to being released back into the community," he said.
"They generally only have a short period to serve in relatively comfortable conditions before being let out.
"It is therefore very odd that some prisoners decide to escape. When they are caught they end up back in the closed prison system in worse conditions and have to wait much longer before they are set free again. It is quite an illogical thing to do, but obviously some are still tempted."
Absconding 'flashpoints'
However, criminologist Tim McSweeney, said the phenomenon of absconding from open prisons could be triggered by a number of factors.
The senior research fellow at the Institute for Criminal Policy Research has carried out one of the few studies into why inmates at prisons such as Prescoed feel the urge to walk out.
In his study, published in 2011, he and his co-authors identified issues such as higher-risk drug cultures in open facilities, family pressures, and grievances with prison authorities as flashpoints for potential absconders.
"Some inmates who had drug issues felt that they had them under control in closed prisons. Once in an open prison, because of the availability of drugs in these establishments, they felt threatened," he said.
"But there are a whole range of reasons as to why a prisoner might abscond."
'Spur of the moment'
Their research, which included interviewing convicts that had absconded, suggested that it was often an impulsive and 'spur of the moment' event, with little planning or discussion with fellow inmates.
Mr McSweeney said it was clear that more research needed to be carried out.
Following his meeting with staff at Prescoed, the MP said many of his concerns had been discussed.
"It is vitally important that everyone is carefully assessed before being placed into the open prison at Prescoed and I have been given assurances that this is happening."
The MP said he would also continue to discuss the procedures used to assess inmates with the jail's governor, adding: "I take this issue very seriously".
A Prison Service spokesperson said the meeting between Mr Davies and prison officials had been "positive".
"The number of absconds from open prisons is at a record low. Those who do abscond will be returned to a more secure prison and may face further charges," said the spokesperson.