Pencisely Road crash: Bus and car in collision at Llandaff, Cardiff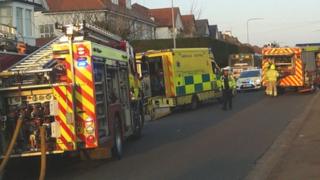 One person was injured when a bus and a car were involved in a collision in a suburban street.
The incident happened at the junction of Pencisely Crescent and Pencisely Road in Llandaff, Cardiff, on Saturday afternoon.
Firefighters used cutting gear to release one person from the car.
The casualty had suffered suspected neck injuries and was taken to hospital by ambulance.
A specialist technical rescue unit from Newport attended the incident because a bus was involved, but was not required.
It is not known how many passengers were on the bus at the time but there were no injuries reported.
Emergency services were called to the scene at 16:54 GMT.