Education chief shared by Newport and Blaenau Gwent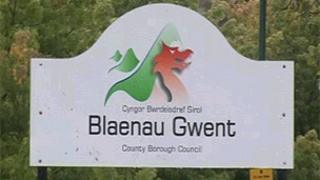 One official has been put in charge of education services in two councils, in line with the Welsh government urging local authorities to work together.
Newport and Blaenau Gwent councils have appointed James Harris as their joint chief education officer.
Commissioners were appointed by the Welsh government to run Blaenau Gwent's education service in 2011 after a critical inspection report.
It was Wales' first local education authority put into special measures.
Mr Harris, who has been head of education at Newport for the last two years, will be answerable to the two councils which will share the cost of his salary.
The city's former education officer Brett Pugh has been appointed head of standards and delivery at the Welsh government, a job he was previously doing on secondment.
'Slide in standards'
The Welsh government has called for councils to share top posts, with ministers threatening to force authorities to collaborate.
Meanwhile, a review is under way which could see councils stripped of their responsibilities for education.
Education Minister Leighton Andrews has said the creation of 22 authorities in the mid-1990s contributed to a slide in standards.
Last month schools inspectors Estyn said education services in Monmouthshire and Merthyr Tydfil should - like Blaenau Gwent - be taken into special measures.
Estyn reached the same verdict after inspections of Pembrokeshire and Anglesey.
'Closer collaboration'
The Welsh government welcomed Mr Harris' appointment.
"The education minister has said on a number of occasions that he wants to see closer collaboration between local authorities," spokesman said.
"Brett Pugh has been working on a part-time basis at the Welsh government for the last two years.
"This appointment as head of school standards unit has now become full-time so Brett will be leaving Newport permanently.
"We are delighted that he will be continuing to work on raising school standards on a national level."