Cardiff and Vale hospital fines 100 litter droppers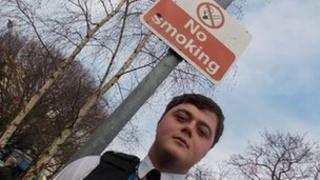 More than 100 people have been fined for dropping litter at hospitals across Cardiff and the Vale of Glamorgan.
Enforcement officers began issuing the £75 on-the-spot fines from 21 February and the majority were given to people dropping cigarette butts.
Officers patrolled the University Hospital of Wales in Cardiff as well as University Hospital Llandough.
The move was part of Cardiff and Vale University Health Board's policy of running smoke free sites.
Dr Sharon Hopkins, the health board's director of public health, said the initiative had received a positive response.
She said: "As well as helping to keep our sites clean the enforcement officers have also been providing contact information for our smoking cessation service and Stop Smoking Wales to support staff, visitors and patients to quit, save money and improve their health."
Peter Welsh, Llandough Hospital's general manager, said: "I'm pleased to say that most people respect their hospital and don't drop litter but unfortunately the few that do spoil the environment for everyone.
"There is still a lot of work to do but the message that you can't drop litter on our sites without potentially expensive consequences is now being heard."
Failure to pay the fine could result in a court appearance and a fine of up to £2,500.