Jury considers Maesteg 'bath-time' murder verdict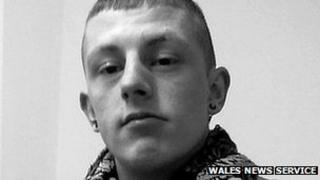 A jury has been sent home for the night as it considers its verdict in the case of Maesteg man accused of murdering a passer-by who called at his home.
Stuart Worvell, 22, is alleged to have stabbed Thomas Sutton nine times.
Cardiff Crown Court heard 20-year-old Mr Sutton knocked the front door of the defendant's home believing there may be a party at the house.
Mr Worvell denies murder and says he was defending himself after being attacked.
The defendant is also accused of stabbing Mr Sutton's friend, Kyle Harris, 18, who survived.
The two victims called on the house after hearing music, but instead of it being a party, it was Mr Worvell playing loud music while having a bath, jurors heard.
During the trial, prosecutor, Greg Taylor QC said Mr Sutton had decided to knock the door and "try his luck".
"Thomas kept knocking the door and asking to come in, Worvell didn't want to let him in and things got a bit heated," said the prosecution.
The jury heard how Mr Worvell confronted Mr Sutton - known to his friends as Tuskin - on the doorstep of the house on Tonna Road, Maesteg, in June last year.
The trial has been told that Mr Worvell claimed to be acting in self-defence after the two other men attempted to attack him with pieces of wood.
But no defence was heard in the trial and the jury was sent out on Wednesday after the judge's summing up.
The jury spent an hour in deliberation before being sent home for the day. They will return to court on Thursday to continue considering their verdict.
The case continues.