Maesteg killing: Stuart Worvell guilty of manslaughter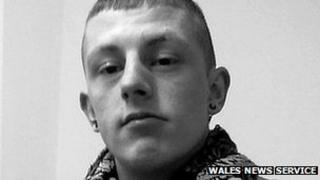 A man who stabbed to death a passer-by who called at his home near Bridgend has been cleared of murder but convicted of manslaughter.
Stuart Worvell, 22, from Maesteg, stabbed Thomas Sutton, 20, nine times after he called at the house thinking there was a party there.
Worvell, who said he was defending himself from attack, was also cleared of attempting to murder Mr Sutton's friend, Kyle Harris, 18.
Sentencing was adjourned for reports.
Mr Sutton and Mr Harris, who survived the attack, called at the house after hearing music, but instead of it being a party, it was Mr Worvell playing loud music while having a bath, Cardiff Crown Court heard.
During the trial, Greg Taylor QC, prosecuting, said Mr Sutton had decided to knock the door and "try his luck".
"Thomas kept knocking the door and asking to come in, Worvell didn't want to let him in and things got a bit heated," said the prosecution.
Fight
The jury heard how Worvell confronted Mr Sutton - known to his friends as Tuskin - on the doorstep of the house on Tonna Road, Maesteg, in June last year.
A fight broke out and ran through the house with Worvell grabbing a 15cm kitchen knife and stabbing Mr Sutton.
Mr Taylor added: "He grabbed the biggest knife he could from the cutlery drawer in the kitchen and stabbed him twice.
"The first blow was to the left hand side of the neck severing the main artery between the heart and the brain.
"The second was a wound to the left side of the chest which went deep into his lung.
"Worvell continued to stab his victim, twice to the top of the head and five times to the back."
The defendant also stabbed Mr Harris, who was also involved in the fight, the court heard.
Mr Taylor said: "He was stabbed three times and survived only because he received very quick and good emergency surgery without which he would have died as well."
The jury was told how after the attack Mr Worvell - also known as Womble - dressed and fled the scene.
He travelled to Cardiff where he stayed overnight. He then caught a train to Manchester but got off in Dorrington, Shropshire, and handed himself in, the court heard.
No defence was heard in the trial, but the jury was told that Worvell claimed to be acting in self-defence after the two other men attempted to attack him with pieces of wood.
Judge Mr Justice Wyn Williams KT said a pre-sentence report would be made before he jailed Worvell next month.
There were cries of outrage from the families of Mr Sutton and Mr Harris as Worvell was lead down to the cells.
In a statement, the Sutton family said: "Thomas was a lovable member of our family.
"We don't want to paint a perfect image of Thomas because he had his faults like everyone else. He liked to have a drink, and just lived a happy life and enjoyed a good time with his friends and family.
"Thomas had a kind loving nature and the people he did touch he would do anything to help them. Thomas was an idol for his brother, sisters and nephews and he would look after them.
"Thomas death has shattered us as a family. He is missed so much and there will always be an empty space that will remain in our hearts."