Grant helps restore Llancaiach Fawr Manor's servants quarters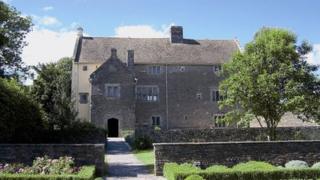 The servant quarters of a 16th Century Tudor mansion are to be opened to the public for the first time, thanks to a Lottery grant of more than £940,000.
The Heritage Lottery Fund (HLF) hopes it will restore the Grade I-listed Llancaiach Fawr Manor and help it attract 80,000 visitors a year by 2020.
Built in 1550, the property near Nelson, Caerphilly, is one of the area's most important gentry houses.
It is open to the public but the servants quarters have remained hidden.
The £943,200 funding, awarded to Caerphilly council, will help open up and repair the attic, where servants once lived, as well as removing "inappropriate modern features".
The stone roof will also be repaired and an external staircase tower and platform lift will allow wheelchair access to upper floors.
Improvements will also be made to sound and lighting in the building, and there are plans to develop an archive and exhibition in conjunction with students at a local school.
The money will also pay for a "development and outreach officer" to teach volunteers and attract new audiences to the manor.
Jennifer Stewart, Head of HLF in Wales, said: "Llancaiach Fawr is a fascinating building that really captures the past and brings history to life for a wide range of audiences to enjoy."
She added: "As well as helping to conserve Llancaiach Fawr and opening up the building in its entirety, we were particularly impressed with the plans to get young people involved in learning about their heritage, while getting the chance to develop new skills and the opportunities offered for volunteers to play their part in sharing the story of the manor."
Cllr Ken James, Caerphilly's cabinet member for regeneration, planning and sustainable development, said he was "absolutely thrilled" with the funding.
Diane Walker, general manager of Llancaiach Fawr Manor, said visitors would be able to see "the difference between the living conditions of the servants as well as the gentry owners".
She added: "We will also be able to open up the vast majority of the building to visitors with mobility difficulties who have formerly only been able to access the ground floor."