Listed former tram sheds on sale in Grangetown, Cardiff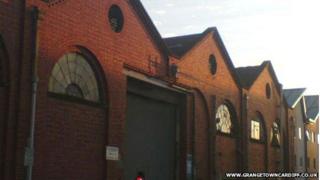 Former tram sheds which used to service Cardiff's electric trams for the first half of the 20th Century have been put up for sale by the council.
The Grangetown site has been a vehicle service centre for the council, but it is moving to a new facility.
In 2003 plans to convert the sheds to an art gallery were put forward as part of Cardiff's city of culture bid.
A local councillor said all options were being considered, including securing funding for community use.
The redbrick sheds in Pendyris Street date back to the late 1880s and were given Grade II listed status.
Grangetown councillor Ashley Govier said he would like to see something similar to the Chapter arts centre in the neighbouring suburb of Canton.
He also said it was not certain the depot would be sold, adding: "We have got to test the market to see what the interest is but certainly we're also working on other alternatives for the use.
"It's got to be best value for the taxpayer, not just in monetary terms.
"I certainly think it needs to be a bit more community benefit coming from that site.
"I'd like to see a centre like Chapter there [and] we're working on a university link-up. It's a listed building so there's limited use of the site."
'Harmonise'
Mr Govier said as it was a large site it was possible that part of it could be used for business or residential use with a section reserved for community use.
"We wouldn't expect to get council direct funding but there are other ways we can leverage funding into the site," he added.
The Grangetown ward has money coming from private developments through planning obligation, where developers agree to provide a certain amount of funding as part of the deal with the council for planning permission, and it is possible some of this could be used.
Mr Govier said the population of Grangetown was 19,000 and rising.
"There are pubs, but not everybody will go to them; there are ethnic cafes but not everyone will visit them," he explained.
"What we need to get in Grangetown is that general place where everybody can go. We're trying to harmonise it by one location that brings people together."
Architects were brought in 10 years ago to look at turning the site into a contemporary arts space, called The Depot, as part of a Cardiff city of culture bid.
The vehicle maintenance workshops are due to move to a new location within the next few weeks.
Property consultants brought in to market the old depot have said it offers "considerable scope for different alternative uses".