Abandoned horses on Manmoel Common monitored by RSPCA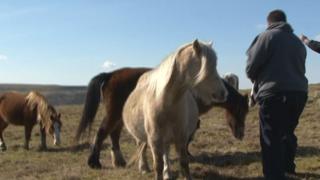 Abandoned horses and ponies on a common in the south Wales valleys are being monitored after several of them died of starvation.
More than 100 horses are suffering from lack of food and the cold weather on Manmoel Common, near Ebbw Vale.
An RSPCA vet, Barnsby Home of Rest for Horses and Blaenau Gwent council are carrying out weekly checks.
Phillip York from Barnsby said the herd is "reproducing at an alarming rate" and all the mares are pregnant.
Barnsby is based in Leominster, Herefordshire, and Mr York said: "We just don't have the resources to take them all into care.
"Unfortunately, the situation is quite dire for mountain ponies because we have had a prolonged winter."
'Struggling to stand'
The alarm was raised earlier this month after seven animals died and the remaining ponies struggled to stand.
A spokesman for the RSPCA said: "We are doing all we can to monitor the situation and check on the horses on a regular basis, along with several other charities, the local council and a resident in the area who has experience caring for horses".
It is not known who owns the horses, but the RSPCA is investigating.
The spokesman said: "Due to the weather last year, they could not get enough feed to fatten themselves up for winter and the current cold spell has stopped the spring grass growing."
Animal charities are trying to care for the animals, and have received hundreds of pounds in donations from local people.