Horsemeat scandal: Cardiff schools and care homes clear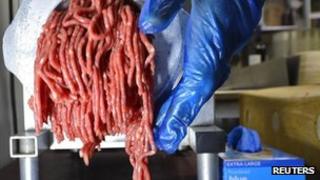 No horsemeat or pig DNA has been found in food samples taken from schools and care homes in Cardiff after tests were ordered by the council.
The authority suspended a supplier which had been challenged by another council over the possible presence of horsemeat in product supplied to them.
Cardiff council ordered more than 200 samples to be independently tested, which all came back negative.
It said it was taking steps to minimise the risk of sourcing contaminated food.
Ashley Govier, cabinet member for the environment, said: "I asked officers to review our approach to our own supply chain in order to ensure we have complete visibility and transparency.
"As a result, we have moved swiftly to address issues identified in order to reinforce the traceability within our procurement protocols.
"We are also working to ensure that these processes are extended to any other services that use our premises such as after-schools clubs and are currently carrying out exercises to enable this."
Cardiff council said it was also involved in the discussions between the Welsh Local Government Association and the Welsh government to consider measures to provide "an appropriate level of public assurance", including better measures to deter fraud and encouraging changes to the existing supply regimes.