Abertillery armed robbery: 'Terror' of shopkeeper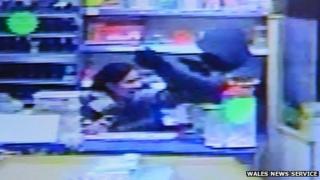 A shopkeeper has spoken of her terror at facing an armed robber at her store in the Gwent Valleys.
Rajbar Kaur, 31, told how she had a gun held to her head by the hooded raider at the shop in Abertillery.
The robbery was filmed on the shop's CCTV cameras and police are now studying footage of the incident which happened around 20:00 GMT on Wednesday.
"It was the most terrifying moment of my life," said Ms Kaur. "He could have killed me."
Ms Kaur was alone on the premises - the Lucky Superstore on Cwm Cottage Road - when the thief walked in through the door.
"At first I thought he was just a customer wrapped up warm against the cold," she said.
"But then he pulled out a gun and said 'open the till' - it was really scary.
"The gun was so close to my head I couldn't focus on it but I knew if it went off it would be the end of me.
"I knew there wasn't much in the till - when I opened it he said, 'where is the rest of the money?'"
Her six-year-old nephew narrowly missed the drama, walking into the shop the moment the thief left.
Ms Kaur was open for business on Friday but said the incident had left her in shock.
"I am still very scared," she said.
"Every time someone comes in the shop I think it is going to be him again.
"If I don't open the shop it's like he has won.
"Despite everything that's happened I still feel lucky. I've got away with my life and that is more important than anything else.
Local accent
"But when I think of that moment with the gun it makes me shiver. I couldn't sleep last night with it going over and over in my mind."
Gwent Police are appealing for witnesses, saying the thief escaped with cash, part of the till, a handbag and two mobile phones.
The robber is said to be 6ft tall (1.83m) and strongly built, speaking with a local accent which was said to be soft and not matching his size.
He was wearing a grey hooded top that had lime green laces and front pocket, black shell-type tracksuit bottoms and white trainers.
He also had a black woollen scarf pulled up over the lower part of his face and was wearing black woollen gloves.
Officers said the thief walked down Richmond Road after leaving the shop. The part of the till which was taken was recovered in a nearby lane.
Anyone with information is asked to phone police on 101 or call Crimestoppers anonymously on 0800 555 111.