Stripper Leon Zbudowskyj not charged over ladies night 'brawl'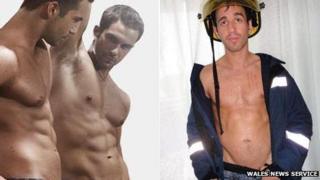 A stand-in male stripper from Cardiff will not face charges for allegedly attacking disappointed women who booed him off stage.
Leon Zbudowskyj, 29, was arrested after a brawl broke out at a £10-a-head ladies night at the Baltic Inn at Pontyates, near Llanelli.
More than 150 women expected to see a muscular hunk called Fabio.
But dark-haired Fabio had to pull out and was replaced by novice stripper Mr Zbudowskyj.
Witnesses say Mr Zbudowskyj went on stage dressed as a fireman but failed to put on a decent performance for the chanting women.
Mr Zbudowskyj was arrested after allegedly losing his temper and diving into the crowd sparking a large brawl.
Five Dyfed-Powys Police cars were sent to break up the chaos.
After the arrest in February he was released on bail but police have decided he will not face any further action.
A spokeswoman for Dyfed Powys Police said: "We have not brought charges at this time."