Cardiff council pitch fees rise 'tax on amateur sport'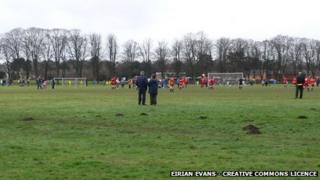 Grassroots sports will be damaged after Cardiff council put up the cost of hiring pitches, claims the leader of the Welsh assembly Conservatives.
Fees for using football pitches and changing rooms have risen from £38 to £55 per game, while for rugby pitches it went up £38 to £75 this month.
Andrew RT Davies described it as a "tax on amateur sport".
The Labour council has said it faced difficult decisions to protect other services, such as schools, from cuts.
Since 1 April the cost of hiring council-owned sports facilities has risen by as much as 146%.
The council has defended the changes, saying its fees were "competitive compared with private alternatives".
But Paul O'Sullivan, secretary of the Cardiff Midweek Cricket League, said six teams had told him they were not going to register for the coming season because of the added costs.
"At present it seems that local sports are simply not safe in Cardiff council's hands," he said.
Danny Gomes, secretary of the Lazarou Sunday Football League, said he feared that some clubs would fold following "this inexplicable move".
He added: "As secretary of the league I regularly deal with complaints from clubs who are unhappy with the state of the council's pitches and the poor condition of their changing facilities.
"How am I supposed to explain to the same players and managers that they will have to pay more next season - for the same?"
Mr Davies, an AM for the south Wales Central, said his office had met the leagues a number of times.
'Extremely damaging'
"It was my hope that the Labour council would see sense on this and come to some kind of compromise that might have been acceptable to both sides.
"However, it is pretty clear that these rises are going to go ahead and the impact on local sport will be extremely damaging."
Huw Thomas, Cardiff council's cabinet member for sport, leisure and culture, said proposing the budget was "extremely difficult".
He added: "In Cardiff, we want to ensure that the most vulnerable continue to have access to sport. That is why the fees and charges for children and youth clubs [have been] removed by the administration, with the aim of helping clubs grow and improving grassroots sport provision.
"Senior fees have risen as a consequence, to a level that can now be sustained, whilst still being supported by council subsidy."
Mr Thomas also said the council was actively working with clubs and other organisations to develop opportunities to upgrade club facilities.
In March, Cardiff council said it faced steeper cuts than ever "which means some difficult decisions need to be taken to ensure that our frontline services, such as schools and social services, are protected".
It said: "The council has examined the subsidy per head for outdoor sport and in order to help protect other services in the long term, the cost for use of football pitches has been recalculated based on 22 players paying £2.50 per head."