Coastal Oil and Gas wants to test for methane gas near Llantrisant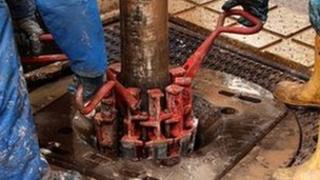 A south Wales company wants to sink a test borehole near Llantrisant in its search for methane gas reserves.
Bridgend-based Coastal Oil and Gas Ltd has put forward an application for permission to Rhondda Cynon Taf Council (RCT).
The company said at this stage it was for exploration only and would not involve the controversial fracking (hydraulic fracturing) process.
The drilling would take place north of the town.
The site near Pantybrad Road is 1km north of the Royal Mint.
Coastal Oil and Gas already holds licences for sites across south Wales, and has permission to drill in three places including Llandow in the Vale of Glamorgan, after appealing against a refusal by the council to grant permission.
In documents submitted to RCT, the company said it wanted to drill to take samples of Westphalian coals and Namurian Strata for laboratory testing "with a view to the utilisation of methane as a clean energy supply".
It adds: "This is a continuation of an ongoing sampling and testing programme across south Wales, Bristol, Somerset and Kent.
"This application is for exploration works only and does not entail any ground stimulation."
Some are concerned about the possible impact of any future extraction by the fracking process, which has been linked to cases of groundwater contamination and man-made earthquakes.
However research published on Wednesday in the Journal of Marine and Petroleum Geology has suggested fracking is not a significant source of earthquakes that can be felt at ground level.
The Durham-based scientists behind the report said most fracking events released the same amount of energy as jumping off a ladder.