Paralympic coach Anthony Hughes honoured with MBE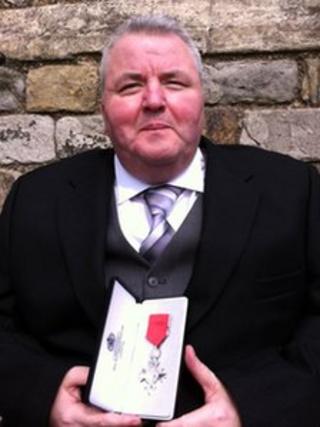 A former Paralympian who has used his skills to guide many of Wales' current disabled athletes to glory has received an MBE from the Queen.
Disability Sport Wales (DSW) performance coach Anthony Hughes was honoured for services to sport at a ceremony at Windsor Castle.
Mr Hughes joined DSW in 1999 and helped develop the system that saw Welsh participation in disabled sport rocket.
The coach from Penarth called his award "one of my career highlights".
Mr Hughes took part in shot and javelin events and competed in the 1992 Barcelona Paralympics.
He won silver at the 1990 IPC World Championships for the shot and in 1994 held the world record in the event.
After retiring from competition due to injury, Mr Hughes moved into coaching, and saw one of his team clinch silver at the Atlanta Paralympics in 1996.
In his time at DSW the number of Welsh athletes taking part in the Paralympics has risen from 17 in Sydney 2000 to 38 at London 2012.
Two of his proteges - Aled Sion Davies and Josie Pearson - won gold at last summer's Paralympics.
'Richly deserved'
Mr Hughes said of his award: "When I started my job at Disability Sport Wales, I never imagined that one of my career highlights would be receiving an MBE from the Queen.
"Today was such a humbling experience. I am so grateful for all of the support I have received over the years that has enabled me to do my job."
Gareth John, chair of DSW, said of Mr Hughes: "The MBE that he receives today is so richly deserved having dedicated much of his life to disability and Paralympic sport.
"In a long and distinguished career he has not only excelled as an elite athlete and coach, but he has also been personally responsible for the development of so many talented Paralympians who have gone on to represent Wales and Great Britain with great distinction.
"His contribution to Welsh sport has been hugely significant and it is right and proper that he is being honoured today."
Mr Hughes was named Sport Wales Coach of the Year in 2011 and was inducted into the UK Coaching Hall of Fame in 2012.