Merthyr: Puddlers Bridge closes after theft of metal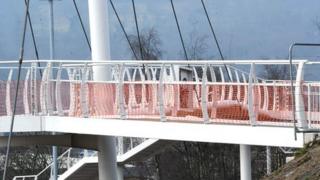 The theft of metal with an estimated scrap value of £20 has led to the closure of a landmark bridge and will cost up to £12,000 to repair.
The wire was taken from the Puddlers Bridge in Merthyr, which was opened by fashion designer Julien Macdonald just over a year ago.
It is the latest in a series of metal raids across south Wales.
The bridge, which is used by walkers and cyclists, is now unsafe and will remain closed for a number of weeks.
"Early estimates say the cost of repair will be between £10,000 - 12,000. The metal was taken purely for thieves to weigh in to scrap... the stainless steel that was stolen has a scrap value of £20," said David Jones, a Merthyr council cabinet member.
"The cost of mending the bridge could pay for the repair of 150 potholes in Merthyr.
"The thoughtlessness of the thieves will cause problems for the general public, on top of the financial cost to the authority", said Mr Jones.
The stolen wire fits the gaps between the main frame and prevents people falling down either side. Without the wire children could fall from the bridge on to the busy A4060 below, which is why the bridge has been forced to shut.
The theft happened between 5pm on 2 April and 10am on 5 April.
The bridge goes across the Trevithick Trail, which links Pentrebach with the town centre.
Mr Jones said it was used daily by the whole community, including shoppers, commuters, schoolchildren and cyclists. The route has been promoted by sustainable transport group Sustrans.
Merthyr council said the bridge would be reopened as soon as possible, hopefully within the next few weeks.
Mr Jones said while this was the first metal theft he was aware of from a Merthyr bridge, drain covers had been regularly stolen in the past.
He said up to 70 covers had been taken in the second half of 2012, at a cost of about £160 each to replace.