Crumlin NHS worker bought hot tub with 'extra' salary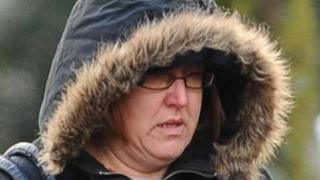 An NHS worker who knew she was mistakenly being paid two salaries was caught after bragging about buying a hot tub, ball gown and having a house extension, a court heard.
Telephone operator Ann Barnes, 47, of Crumlin, near Caerphilly, admitted stealing £13,326 from Aneurin Bevan Health Board.
Cardiff Crown Court heard Barnes has since paid the money back.
She was given a five-month suspended jail term and 80 hours' unpaid work.
The court heard mother-of-two Barnes was struggling in her part-time job when she started getting a double salary due to an NHS administration error.
Over a two year period, Barnes received £33,000 pay for 16.5 hours-a-week work instead of the £19,954 she should have been paid.
But she did not say anything and was caught when she started talking about spending money on luxuries, including holidays and a house extension, the court was told.
Her manager at the out-of-hours GP service told the court how she noticed Barnes went from "rags to riches" due to the double pay mistake.
Line manager Ann Poyner recalled how Barnes had said she thought she would lose her home in 2006 because of financial difficulties.
But those money worries, Mrs Poyner said, "seemed to disappear".
Hot tub
"I offered her a bank holiday shift thinking she would need the money because of her previous financial problems," she said.
"I was a bit shocked when she said she couldn't work the shift because she was going for a meal with her husband.
"She said she was then going to a garden centre to look at buying a hot tub.
"After 2009 she started talking about buying an expensive ball gown for her daughter's graduation, a holiday and having an extension built on her house."
Mrs Poyner eventually contacted payroll after realising something was not right and Barnes was arrested, the court heard.
The double pay blunder began in 2009 when Barnes was given a promotion and a pay rise. It was at this point the administrative mistake was made and she was paid two salaries.
The court heard payroll officer Saide Titcombe spotted Barnes was receiving two wages and queried it with her but Barnes lied that she had two jobs for the NHS.
Prosecutor Nicholas Gedge said: "Barnes then got away with dishonestly receiving two wages for two years."
Robert Hawkins, defending, said Barnes she had paid the health board back from her husband's redundancy money.
Mr Hawkins added: "She was a woman of previously good character and it has caused her much anxiety."
Sentencing, Judge Stephen Hopkins said: "You were clearly very highly thought of at work. Initially the double payment was an administrative error, but your vice was that you didn't correct it.
"The fact you will repay the outstanding sum is good but you cannot pay your way out of it."