Cardiff City promotion to be marked by open-top bus parade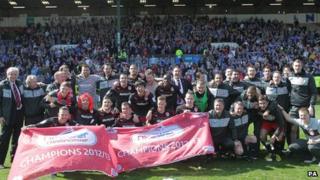 Cardiff City will celebrate their promotion to the Premier League with an open-top bus parade.
Thousands of fans are expected to greet the players and manager Malky Mackay as they head from Cardiff City centre to Cardiff Bay on Sunday, 5 May.
The Bluebirds secured promotion from the Championship last Tuesday and clinched top spot with a draw at Burnley on Saturday.
The team will be presented with the Championship trophy on Saturday.
Cardiff council leader Heather Joyce said it had been a "truly epic week" for City and it was right for the club to mark the achievement with a huge celebration.
"The event, which will take place on 5 May and will include an open-top bus tour from Cardiff city centre to the bay, will hopefully give everyone a chance to see the team and show their appreciation for their achievement as well as give us all another reason to celebrate," she said.
"As a council we are committed to doing all we can to help support the club as they take their place in the Premier League next season and make the most of the fact that Cardiff's name is going to be blazoned on screens across the world, raising the city's global profile into the homes of hundreds of millions of people.
"So I really do hope as many people as possible put this date in their diary so they can help us all celebrate what is an historic occasion."
The parade will take place the day after City's final match of the season at Hull.
Meanwhile Cardiff have appealed for fans to stay off the pitch after their last home game on Saturday against Bolton so the team can be presented with the Championship trophy as quickly as possible.