Forces champion role for University of South Wales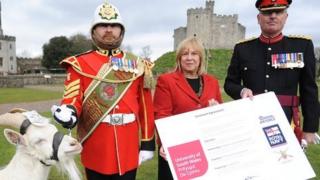 Former servicemen and women will be able to get help and advice on education from a new University of South Wales "forces champion".
The university has signed a formal covenant with the armed forces to provide guidance to leavers on their future.
Prof Kevin Davies, a colonel and deputy commander of the Army's 160 Wales Brigade, is taking on the role.
He said it was a development of work previously done in the valleys.
"The Universities Heads of the Valleys initiative set up by the old Glamorgan and Newport universities [which formed USW] looked at offering all sorts of study for people trying to get back into education.
"To anyone coming back to Wales after leaving the military it would be really useful.
"This is anything from those three education modules to degrees, masters, PhDs - there's every program of study."
As well as his Army role, Prof Davies is also principal lecturer at the university's faculty of health, sport and science and chair of the military education committee for universities in Wales.
He said the two old universities had particular strengths with helping people from the military into civilian roles, with Glamorgan having a good record in engineering and health, and Newport in teaching.
Prof Davies highlighted the concentration of military sites in south Wales, and said it would be added to when the 14th Signal Regiment moved from Cawdor - formerly Brawdy - in Pembrokeshire to St Athan in the Vale of Glamorgan.
"There is quite a big defence population here already. The Welsh regiments do recruit extensively in the south Wales area," he said.
He said part of the initiative was driven by a focus on social responsibility.
"We have a really good track record of enabling people from the valleys to access higher education who perhaps don't have formal education."
The covenant will also mean providing specialist support to the forces' training for disaster relief and medical services, as well as supporting university staff who serve in the reserve forces.