Monmouthshire canal pioneer Thomas Dadford Jr's plaque honour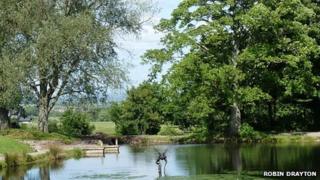 A plaque has been unveiled to honour an engineer who revolutionised the science of canal building.
Thomas Dadford Jr masterminded both the Monmouthshire and Brecknock and Abergavenny canals.
The Institution of Civil Engineers (ICE) Wales Cymru, the Monmouthshire Brecon and Abergavenny Canals Trust and the Fourteen Locks Canals Trust organised the event.
Dadford lived from 1760 - 1801 and is buried near Abergavenny, Monmouthshire.
The ceremony on Monday unveiled a panel near the Fourteen Locks Canal Centre, which is close to Rogerstone, Newport, and it followed a rededication ceremony of his grave at St Teilo's Church in Llanarth.
Dadford, who was born in Wolverhampton, began his remarkable engineering career at just 16 and was appointed engineer of the Monmouthshire canal in 1792. It includes the flight of 14 locks and a four-arch aqueduct over the river Usk.
In 1795, he embarked on the Brecknock and Abergavenny canal, which included significant engineering features such as a massive embankment carrying the canal over the river Clydach at Gilwern.
Geoff Ogden, chairman of ICE Wales Cymru, said: "We are recognising one of the early canal pioneers whose expertise revolutionised the science of civil engineering."
The original Monmouthshire canal was authorised by Parliament in 1792 and stopped being used as a commercial waterway in 1930.
However, the canal's historical significance means it is now protected by Welsh historical environment body Cadw as an ancient monument.