Caerphilly council pay: Leader survives no confidence vote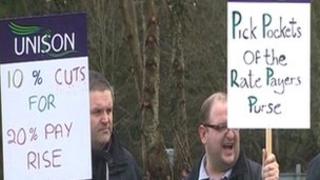 The leader of Caerphilly council has survived a no confidence vote after a row over a £25,400 pay rise for its top official.
Councillors voted 43-15 against the motion facing Labour's Harry Andrews.
Mr Andrews was given a standing ovation following the vote during a council meeting on Tuesday.
The motion of no confidence had been put forward by Plaid Cymru's group leader after auditors branded the chief executive's rise unlawful.
Car allowance cancelled
The council has already asked auditors to look at claims of compensation for senior staff who lost a car allowance.
Chief executive Anthony O'Sullivan was suspended in March following a Wales Audit Office report into the rise he was awarded last year.
It led to protests by staff and trade unions, and an apology by Labour councillors on the authority.
The council reversed the decision in January and cut Mr O'Sullivan's pay rise to £5,000. The matter has since been referred to the police.
Plaid Cymru group leader Colin Mann, who tabled the no confidence motion in Mr Andrews, said before the vote: "This motion is not about personality.
"He as the leader and his cabinet must accept full responsibility for the shambles which has brought huge embarrassment on the council."
It has also emerged that an allowance for staff who have to drive their cars as part of their work has been cancelled.
However, 40 members of staff earning more than £38,463 were given a fixed sum when the allowance was withdrawn.
A Caerphilly council spokeswoman said: "We have already asked our appointed auditors to look into the matter."
She declined to say how much had been paid.
It was revealed through a freedom of information request to a former councillor who said he had an anonymous letter revealing that some staff had a "buy out".
Graham Simmonds, who stood down from the council at last year's local elections, said there had been a "drip, drip, drip" of bad news from the authority.
"Every week it's a new story and every new story comes straight out of taxpayers' pockets," he said.