Ronald Tatchell was called drama king before death, inquest told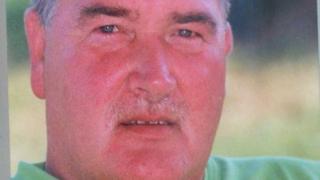 Health officials have apologised to a man's family after an inquest found he died due to medical neglect caused by "a whole system failure" in hospital.
Ronald Tatchell, 66, from Bridgend was allegedly called a "drama king" at Llandough Hospital in the Vale of Glamorgan shortly before his death while recovering from treatment.
Cardiff and Vale University Health Board has admitted failures in Mr Tatchell's care last October were "absolutely unacceptable".
It has pledged to take action.
"There was a continuous sequence of shortcomings," said Christopher Woolley, Cardiff assistant deputy coroner.
"There's a link between the failure and Ron's death. So I do find there has been neglect."
The retired bailiff, a grandfather, had been recovering well from a back operation and his family was looking forward to him coming home, the hearing was told.
But his colour suddenly drained, the whites of his eyes turned yellow and his abdomen became swollen and tender.
Staff nurse Rhian Grapes told the inquest: "I told the senior house officer who referred to him as being a drama king."
'Distressing time'
But senior house officer Dr Olamide Eso denied the nurse's claim - saying: "I can categorically say that I did not refer to Mr Tatchell this way.
"That's just not how I would speak about my patients."
The inquest heard that ward manager Sally Lewis became so concerned she went over Dr Eso's head by contacting the surgeon who carried out the operation.
"I didn't feel the doctor looking after him had assessed Ron's condition enough," said Miss Lewis.
The inquest heard blood samples taken at 6.30am were marked "urgent" but the results were not received until around 11.55am
Surgeon Declan O'Doherty, who carried out a review of the treatment, told the hearing: "The whole thing was just dysfunctional.
"At no stage did anyone actually know what his state was - I think there's been effectively a whole system failure."
Mr Tatchell died last October. The health board apologised to Mr Tatchell's widow Angela, 66, and his two sons Steven, 36, and Matthew, 42.
Nursing director Ruth Walker said: "Words are of little comfort at such a distressing time but we would like to offer our sincere and unreserved apologies to Mr Tatchell's family.
"The failures in his care are absolutely unacceptable. While no one individual is to blame, it is clear that the system let down Mr Tatchell, with tragic consequences.
"We have already undertaken a full and in-depth investigation into Mr Tatchell's care which we shared with his family and the coroner ahead of the inquest.
"We will review urgently the detail of his findings to make sure that we address fully all of the failings identified."