Climber Kevin Andresen dies in South Korea mountain fall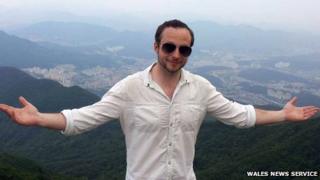 A teacher has fallen more than 50ft (15m) to his death while rock climbing in South Korea.
Kevin Andresen, 30, from Blaina near Ebbw Vale, was climbing with friends on the volcanic island of Jeju when the incident happened.
The Cardiff University graduate had been teaching English in Seoul for 18 months.
Mr Andresen's mother, Gaynor Andresen, thanked friends for their "unbelievable" support.
The 52-year-old said: "The support I have had has been superb. People have been so very kind doing this for me, it really is unbelievable."
A school friend of Mr Andresen, Lloyd Hughes, 30, said: "He was incredibly outgoing, friendly and funny.
"Travelling was a passion of his and he had been over the USA and Canada, Europe and China before he went to Korea.
"He really found his passion teaching the children in Korea and he absolutely loved the place.
"He was genuine, nice fellow, bringing him back to the UK has been the main thing for us."
Mr Andresen was based at a secondary school in the capital and a member of the Seoul Hiking Group and Intrepid Foreign eXcursions, a travel group offering "control chaos for the seriously intrepid".
But he was killed when he fell off of the mountain path on Saturday 4 May.
Mr Andresen's girlfriend Rachel Law, who was travelling in India when the incident happened, has returned to Britain for his funeral.
A plaque has been unveiled at the school where he taught with a message reading: "He loved this place and we loved him."