Abandoned horse complaints quadruple in parts of Wales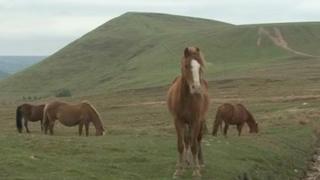 Complaints about abandoned horses and ponies quadrupled in some parts of Wales last year.
Figures obtained by BBC Wales suggest a 23% increase across the country but Blaenau Gwent council received four times as many calls than in 2011.
The RSPCA also received 2,200 equine complaints in 2012.
The Welsh government is considering new legislation on the issue and a consultation on abandoned horses finished last month.
In response to a Freedom of Information request, 20 of the 22 local authorities in Wales revealed that in 2012 they dealt with 469 incidents - a 23% increase on the previous year.
Until March this year 165 incidents had already been reported.
Some horse and pony re-homing charities say they have noticed an increase in abandoned animals too.
Blaenau Gwent, which has several large areas of common land, saw the biggest increase in calls - from 34 in 2011 to 148 in 2012.
Newport, Rhondda Cynon Taf and Caerphilly all saw fewer calls than in 2011.
Animal welfare charities say the problem is not confined to abandonment, but also managing wild ponies and horses.
The RSPCA is urging the Welsh government to consider introducing legislation targeting the abandoning horses on private land without permission - known as fly-grazing.
The society says no existing laws adequately address the problem and responsible breeding also needs to be encouraged through guidance and the facts on the "unprofitability of the lower end of the horse market".
'Fit for purpose'
The charity also wants support for the resurrection of the National Equine Database so enforcement agencies and landowners can take action where needed, and it wants statutory guidance and conditions for local authorities to aid enforcement.
It would also like to see an extension of the various local acts that deal with horses to cover the whole of Wales to aid more consistent enforcement.
A Welsh government consultation on fly grazing and abandonment closed in April.
A spokesperson said: "We recognise that the existing legislative framework makes it difficult to resolve many of the problems associated with fly grazing.
"The Welsh government is committed to providing a consistent legal framework to address this problem across Wales and this is why our recent consultation on fly grazing considered whether the existing legislation was fit for purpose and whether it could be amended to allow us to more effectively address this problem.
"We are currently analysing the consultation responses but early indications are that there is a need for consistent legislation across the whole of Wales and that the local acts already in place in a small number of local authority areas should be extended to cover the whole country."
In March, abandoned horses and ponies on Manmoel Common, near Ebbw Vale, were being monitored after several of them died of starvation.
More than 100 horses were suffering from lack of food and the cold weather.