Cwmcarn High School asbestos action 'frustration'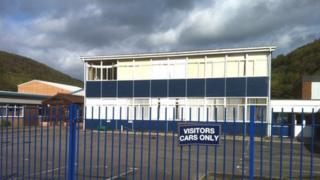 Council bosses say they are frustrated no agreement has been reached about how to remove asbestos from a south Wales, which may delay the return of pupils.
Caerphilly County Borough Council blames "lack of progress" by decision makers at Cwmcarn High while governors claim the council has introduced "onerous terms and conditions".
Pupils are being taught 12 miles (19km) away in Ebbw Vale.
Both sides are due to meet to discuss the issue on Monday.
Councillor Rhianon Passmore, the council's cabinet member for education, said pupils, parents and staff were "concerned about the delay".
"The education and wellbeing of the children is paramount but unfortunately we are still awaiting a decision.
'Decisive action'
"Time is running out if pupils are to return 'home' to Cwmcarn for the start of the new term in September," she said.
Meanwhile, the school governing body said it was "extremely frustrated," having twice been close to signing an agreement with the council before hurdles had been put in the way.
A statement on the school website said: "The school's contractors have been given approval to start work and the school's contractors have confirmed that the school can be ready for the start of the school year, but the council are objecting to them starting work."
In April, Caerphilly councillors agreed to spend around £1m on the asbestos removal work and temporary classrooms so the school's 900 pupils could return by September.
Council acting chief executive Nigel Barnett and the school's governing body have already met twice over the issue.
"I would urge the school leadership to take decisive action before we miss our window of opportunity to get the work done in time," said Mr Barnett.
Cwmcarn High School closed after a council-commissioned report found that asbestos posed a potential health risk.
But in February this year a Health and Safety Executive report said the site was essentially free of asbestos contamination.
Another report in March found there was little difference between the two documents, apart from the conclusions.