'Long wait' for adult ADHD treatment in Bridgend area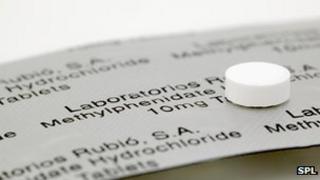 Adults seeking diagnosis and treatment for attention deficit hyperactivity disorder (ADHD) in a south Wales town are having to wait three years for help, a support group has claimed.
ADHD Bridgend said a consultant who retired last year was not replaced.
The group also raised concerns about children leaving the youth service and being left without enough support.
The local health board said it was developing an adult service but would investigate any access issues.
Luke Ellis, chair of ADHD Bridgend, was referred to the ADHD service by his GP last year.
But after being told it would take three years to be seen he paid for a private consultation in order to be diagnosed.
Mr Ellis, a Bridgend county councillor representing Pyle, said the area had a good service for children with ADHD at the Child and Adolescent Mental Health Service (CAMHS) at the Princess of Wales Hospital which was highly rated by parents in the group.
However, he said: "I remain extremely concerned at the lack of permanent provision for adults being referred for diagnosis from Bridgend, and crucially for teens going through the transition phase from childhood into adulthood.
"There is currently no permanent adult ADHD consultant covering Bridgend and I remain worried about what is happening to children who leave the support of CAMHS and find themselves without a trained ADHD-specific consultant.
"Adults seeking diagnosis for undiagnosed childhood ADHD are placed on a three-year waiting list to be seen and this list has remained static for some time."
Mr Ellis said he had struggled with many things including mental health until his late diagnosis.
He added: "The situation is stark for adults awaiting diagnosis, and the chaos caused in people's lives until effective treatment is begun can be devastating or even tragic."
'On his own'
Zoe Piper, vice-chair of ADHD Bridgend, has a nine-year-old son with the condition.
She fears for Dylan's future as he matures into an adult and said others in the group, which numbers over 100, felt the same.
"People who have got children who are 14, 15, 16 are starting to wonder what's going to happen," she explained.
Dylan currently sees the child service every three to six months depending on how well his medication is working.
But she warned that once he turned 18: "He's on his own, pretty much. At the moment he's got me. I don't know how he'll control it all by himself as an adult."
Ms Piper believes young adults can need more help than children as they move away from their parents being in control of their condition.
She said: "I wish more was put in place for young adults because 80% of them are in a bad place. A lot turn to substance abuse or alcohol abuse as a way of handling it."
In a statement, Abertawe Bro Morgannwg University Health Board said ADHD in adults was relatively new having previously been regarded as a childhood condition, and some medication had only recently been licensed for use in over-18s.
"Many of these children have now become young adults and we are developing new services to support them," it said.
"We are very pleased that the children's ADHD service we already provide is highly rated by both parents and GPs. With this in mind, we are developing an adult service which mirrors this to make the transition as seamless as possible for teenagers moving into the adult service."
It added consultant psychiatrists had received specialist training in ADHD following the departure of a consultant with a special interest in the condition who saw a "small number of patients" as part of research.
"Whilst this transition to the new adult ADHD service pathway is being developed, a locum doctor at Neath Port Talbot Hospital is also available to see patients with ADHD," the board said.
A Welsh government spokeswoman said: "[The report] Together for Mental Health emphasises the need for services to work together and to strengthen the links between CAMHS and adult services so that young people transfer seamlessly and continue to receive the help and support they need."