Cwmcarn High safe despite asbestos, says HSE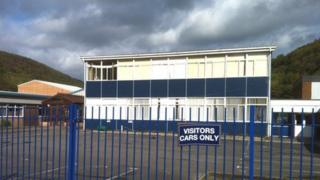 A school which has been shut since October over asbestos health concerns is "essentially uncontaminated", say experts.
The Health and Safety Executive's new report into Cwmcarn High School, in Caerphilly county, said there should be no problems if properly managed.
The HSE said asbestos was present, as it was in other public buildings, but it did not present a risk.
Pupils are due to return after the summer holidays.
The school closed over fears its 900 pupils were at risk and they have since been taught 12 miles (19km) away at Coleg Gwent's Ebbw Vale campus.
But various reports on the asbestos have drawn mixed conclusions regarding safety.
Caerphilly Council agreed to pay £1m to remove the asbestos leading to plans to reopen the school after the summer holidays.
Jane Lassey, HSE head of operations for Wales, said the latest report was the culmination of several months' work.
It took into account reports published by others, the results of tests conducted by the Health and Safety Laboratory and the findings of HSE's own investigation, she said.
"We have concluded that the occupied areas of the school are essentially uncontaminated and that there is no evidence of elevated airborne asbestos fibre levels being released from the ceiling voids," she said.
Removal work
"The presence of asbestos alone should not be a cause for concern if it is properly managed."
Caerphilly council is paying £1m to deal with the asbestos, with pupils expected back for the autumn term in September.
The school closed after a council-commissioned report found that asbestos posed a potential health risk.
But in February this year a previous HSE report said the site was essentially free of asbestos contamination.
Another report in March found there was little difference between the two documents, apart from the conclusions.
The council has been asked to comment on the findings of the latest HSE report.
The school has said work to move pupils back was going well.
An update on its website said: "The council's IT team and other key officers will get the school ready for re-occupation once contractors have finished their asbestos removal work."