Express bus service for Cardiff Airport launched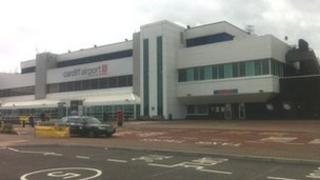 A new express bus service has been launched to Cardiff Airport.
The service will run every 20 minutes between the airport in the Vale of Glamorgan and Cardiff city centre from early morning until late at night.
The airport was bought by the Welsh government for £52m in March and this is the latest move to reverse a slump in passenger numbers.
A bus shuttle from Cardiff and Swansea to rivals Bristol Airport is already in operation.
Cardiff Airport has already invested £500,000 in a facelift to promote Welsh culture and heritage.
And there have been hints at discussions to draw large airlines back to Cardiff, where annual passengers numbers slipped below the one million mark.
Timetables
The Welsh government, which bought the struggling airport and installed a new senior management team, has now stepped in to improve transport links for passengers.
The new bus service, which is co-funded by Vale of Glamorgan council, follows last month's decision by Cardiff Bus to scale back its own four-times a day service.
An adult return ticket will cost £8 or £5 for single.
Cardiff Bus has dropped the Sunday X91 service as part of the company's review of its timetables.
Transport Minister Edwina Hart made the announcement on Monday.
An express bus to rivals Bristol Airport has been running from south Wales since March, calling at Swansea, Cardiff and Newport.
Potential
Graham Morgan, director of South Wales Chamber of Commerce, said the shuttle was " warmly welcomed".
He added: "The difficulty experienced by commuters in linking their journeys between the two sites has long been cause for complaint, and a shuttle bus will go some way to addressing this."
But Mr Morgan said there was still more that needed to be done.
He said: "In particular, we would like to see the proposals by Western Gateway to turn Cardiff Airport into a Heathrow Hub with high speed rail linking the two given some serious consideration.
"The testing of British Airways' A380 superjumbo today demonstrates the airport's potential for handling long haul flights and helps further the case for this approach."
Significant inward investment was needed, he added.