Asbestos fear at Siteserv fire on Llandow Industrial Estate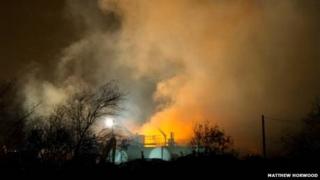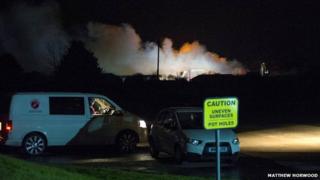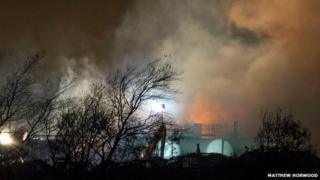 Police have warned residents living within a two-mile radius of a "significant" blaze at a recycling plant to keep doors and windows shut amid fears asbestos could be burning.
Officers say the fire at Siteserv on the Llandow Industrial Estate, Vale of Glamorgan, could burn for two days.
Crews are continuing to dampen down the fire, which broke out at 19:20 GMT on Tuesday.
Siteserv said it was working with investigators to identify the cause.
South Wales Fire and Rescue Service said 45 firefighters were at the scene during the height of the blaze. Two crews remained at the scene on Wednesday.
The air quality is also being assessed.
A South Wales Police spokesman said: "The premises ablaze has asbestos in the roof and, as a precautionary measure, residents within a two-mile radius, particularly in the direction of Llantwit Major and Southerndown, are requested to keep their doors and windows closed.
"The following premises in the nearby vicinity are likely to be affected and visitors and employees may experience some inconvenience as a result - Powercafe, BPLG UK, Llandow Circuit, Keyline Products, QU paving, and JWB Recycling."
South Wales Fire and Rescue said it sent 12 engines and six water ladders.
Scenes of crime and fire investigators were expected at the plant on Wednesday.
Lisa Shroll, Siteserv's director of business services, said firefighters were quick to respond.
"Whilst we are unsure of the source of the fire, we are working with both the fire service and police to establish possible causes," she said.
"In the meantime, the management team has activated the company business continuity plans and is working tirelessly to ensure that we are operating business as usual."
Fire station manager Carl Evans said: "It's definitely going to burn for a couple of days. It's a big building, about 100 metres by 50 metres, and it's full of compacted recycling material.
"As you can imagine, throughout the night it was burning ferociously for a number of hours. This morning we've got it under control but the building is totally damaged by fire.
"We've managed to stop the fire spreading across to an adjacent gas storage plant."
He said residents should keep doors and windows shut until further notice.
Adrian Chilcott, regional sales manager at Keyline Builders Merchants, also based on the Llandow site, confirmed his premises would be closed for the day.
"The first we knew of it was when the manager came in for work at quarter to seven this morning and there was just smoke everywhere," Mr Chilcott said.
"We carried out a risk assessment and because of concerns about asbestos particles we made the decision to close for the day. As far as possible we are transferring staff to our sites in Cardiff, Newport and Swansea."
The Vale of Glamorgan council said its own recycling centre on the Llandow estate was being closed until further notice as a result of the Siteserv fire.
Siteserv, which employs around 200 people, was set up more than 16 years ago by brothers Nigel and Philip England.
Earlier this year they were cleared at Cardiff Crown Court of illegally dumping waste in a 100m-wide (328 ft) hole at Nigel England's Pwll-y-Darren Farm near Cowbridge.
Nigel, 50, and Phillip, 61, were found not guilty of 11 charges at the end of their trial in August.