New Gwent Police chief confirmed as Jeff Farrar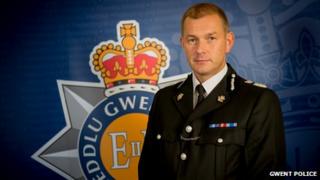 The new Gwent Police chief constable has been named as Jeff Farrar.
He has been confirmed in the post after stepping into the role when the force's previous chief was told to "retire or be removed".
Carmel Napier quit in June following the order from Gwent Police and Crime Commissioner, Ian Johnston.
Mr Farrar, an officer for nearly 30 years, said his vision was to "protect and reassure people"
"I began my career as a police constable some 29 years ago in Cardiff. My main motivation was a desire to help the most vulnerable in our society and to hold those responsible for committing crimes to account," he said.
"This desire has underpinned my entire service across the various areas of policing I have worked.
"Now that I've been appointed chief constable this motivation is more important than ever."
Mr Farrar said he did not "for one minute" underestimate the scale of the task he faced.
"But I am confident that with my experience and with the support of the officers and staff, we are very well placed to continue to deliver the caring and high quality of service that our communities have rightly come to expect," he said.
He said he wanted to make communities safe - and make people feel safe.
'Right person'
"It's important that we get the bad guys off the streets, but we also need to listen and respond to the specific concerns of residents," he added.
"I want people to have confidence in Gwent Police whether they call for our service or not."
Mr Farrar's appointment as the new chief constable was confirmed after a meeting of the Gwent Police and Crime Panel on Friday.
It followed a selection procedure in which he was the only person to apply for the £133,000-a-year role.
He was named as the proposed candidate for the job by the police commissioner in October, who said Mr Farrar was the "kind of leader Gwent Police needs at this time".
On making the appointment, the commissioner said he was pleased by the decision of the crime panel.
"He has done a fantastic job as temporary chief constable and... throughout his time with Gwent Police has shown that he is a strong leader who has the support of officers, staff as well as our partners - and he is undoubtedly the right person for the job," said Mr Johnston.
"I am really looking forward to continuing to work with Jeff to achieve the best policing service for the people of Gwent."