Writer Beth Reeks on Time 'world influential' teenager list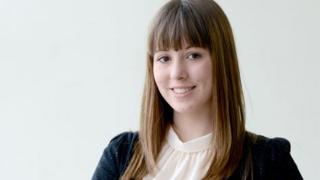 A 18-year-old whose debut novel clocked up more than 19 million hits online has been named one of the world's most influential teenagers by Time magazine.
Beth Reeks secured a three-book deal with Random House with her self-published romance The Kissing Booth.
She has since been ranked 14th in Time magazine's list of young celebrities including Malala Yousafzai, the singer Justin Bieber and Malia Obama.
Miss Reeks, from Newport, a first-year physics student, said: "It seems nuts."
The Exeter University student, who writes under the penname Beth Reekles, added: "It's an honour to be considered in such company."
Time Magazine's listing puts Miss Reeks in the same company as Yousafzai, who has now settled in the UK after surviving being shot in the head by the Pakistani Taliban for campaigning for girls education, and just one place behind 19-year-old Canadian pop star Bieber.
She said: "Justin Bieber is on every poster you pass, and Malala Yousafzai has shown such courage and made such a personal sacrifice that I wonder what the hell they're talking about putting me in the same category.
"Sometimes it feels as though it's all happened too fast, and I keep expecting someone to come along and take it all away from me.
"That's why I'm determined to see through my degree, so I have an alternative career, and so that writing can stay fun rather than something I have to do purely to make a living."
Fifty Shades of Grey
The Kissing Booth tells the story of a teenage love-affair between popular but naïve high school student Elle Evans and her best friend's brother, confident and experienced budding American footballer Noah Flynn.
Some reviews have likened it to a Fifty Shades of Grey for the youth audience.
However Miss Reeks says that rather than trying to emulate anyone else's style, she set out to fill a gap she saw in the market.
"There are a lot of romance writers out there, and whilst I enjoyed reading them, I actually found it quite hard to identify with the characters, because they're all a lot older than me, and at a very different place in their circumstances and life-experience," she added.
"On the other hand, all the novels which did have lead characters my age tended towards the fantasy genre, full of vampires and the like.
"I just thought how hard can it be really? All I want is a believable plot with characters people my age can identify with.
"Eventually I figured that if there was nothing out there like that for me to read, then I'd have to write it instead."
Her first two novels are already available in paperback in four continents, while her third, Out of Tune is scheduled for release next summer.
Meanwhile Random House have also bought-up the option for a film version of The Kissing Booth.