Nant Llesg opencast plans in Rhymney Valley go on show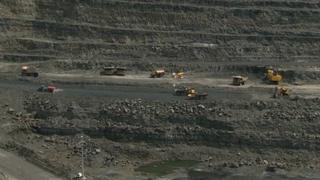 Plans for a new opencast mine in the Rhymney Valley are going on public display.
Miller Argent said its Nant Llesg mine would provide up to 239 full-time jobs.
If backed by Caerphilly council, the firm said it would invest nearly £13m annually in the mine and create a fund to support local community projects.
However, a campaign group has commissioned university research which claims the mine "could affect future inward investment prospects".
The Cardiff University research, published on Tuesday, was commissioned by campaign group the Green Valleys Alliance.
It looks at the economic contribution of inward investors close to the proposed open cast mine extension.
It found that "the presence of extensive open casting is unlikely to assist in the location marketing of the Head of the Valleys area, and attempts to showcase the natural assets of the wider area".
It could lead to companies "deferring or cancelling future investment," the report says.
Cosmetics firm Richards and Applebey, which employs 140 staff at its factory on the Heads of the Valleys industrial estate - near the site of the proposed mine - has said it will have to relocate if the mine goes ahead.
Its managing director, Mitchell Field, also heads the Green Valleys Alliance.
He said: "When we first came here we came here because the environment was absolutely perfect for manufacture - brilliant air, good water, great staff - we came for that.
"With the opening of a new mine we will lose many of those benefits."
Miller Argent, which employs 200 staff at Ffos-y-Fran opencast mine near Merthyr Tydfil, said the concerns were unfounded.
Neil Brown, managing director, said: "We're well experienced to operating in close proximity to local businesses and communities without any adverse effect whatsoever.
"We had similar concerns when we started the Ffos-y-Fran project and those fears proved to be groundless.
"We understand community concerns and we have spoken very much with local communities.
"There are very tough rules that actually govern the environment and we've been classified as very low risk by Merthyr and Caerphilly council that monitor us on a regular basis."
Caerphilly Council will hold a series of exhibitions starting from 19 November.