Freed Greenpeace activist Anthony Perrett ready for court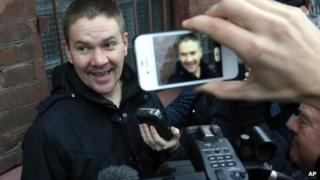 A Greenpeace activist who has been released on bail in Russia says he is looking forward to defending his actions in court.
Anthony Perrett, 32, from Newport, was among 30 arrested on hooliganism charges after a protest against oil-drilling in the Arctic in September.
He was released on bail on Friday after two months in jail.
Speaking to BBC Radio Wales, Mr Perrett said his resolve to fight for environmental causes was now stronger.
"As is the case with any Greenpeace action we always stand in court for our actions and defend them," said Mr Perrett, who is still in St Petersburg.
"So that's what we intend to do here. We'll wait for our day in court patiently and we'll answer to the very spurious allegations against us.
Undisclosed location
"Obviously our actions were very much based around trying to save the Arctic and to get some legally binding agreement for all the Arctic nations not to drill for oil in the Arctic."
Mr Perrett was the first protester to be bailed on Friday morning.
Four other Britons among the Greenpeace protesters - Alex Harris, Kieron Bryan, Frank Hewetson and Iain Rogers - were also given bail.
They have been detained at an undisclosed location in St Petersburg and are awaiting more information from the court.
All 30 of those originally detained still face possible trial on charges of hooliganism over the protest at an Arctic offshore oil rig owned by the Russian company Gazprom.
'Emotional rollercoaster'
Mr Perrett told BBC Wales he believed the court date was set for 24 February next year but that had not been confirmed.
He described his period in detention in Russia as an experience he would never forget.
"I was very fortunate and, yes, it's a pretty monotonous daily routine but I was given some books.
"Towards the end of my stay when we moved to St Petersburg I did have a lot more reading material which helped the days go by.
He added: "It was a bit of an emotional rollercoaster. It's the uncertainty that really causes the fluctuations in emotions."
He also described the moment he was told he was to released from prison.
'Eating quiche'
"It was very nice to hear the guard come and open the little window of my cell and say 'Mr Perrett - freedom' and escort me off.
"I felt fantastic, it was really good."
Mr Perrett has now been reunited with his partner Zaharah Ally, also from Newport, who has flown out to Russia to be with him.
He said he had collected his partner this morning "and she's sat with me now eating quiche".
"But neither of us have slept for the last 30 hours or so I think we'll be off to bed shortly," he added.