Pre-surgery weight and smoking courses rolled out in Cardiff and Vale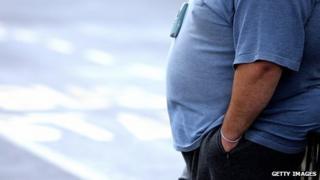 Smokers and obese patients in Cardiff and the Vale of Glamorgan will have to go on "lifestyle courses" from next month before planned surgery.
The area's local health board said cutting weight before an operation gave a better chance of success.
It said the policy was being rolled out after a pilot project at 10 GP surgeries had proved a success.
The National Obesity Forum has said the policy is expensive and could yield few benefits.
Under the policy, which begins on 1 December, smokers and those with a body mass index (BMI) of more than 40 will be asked to complete lifestyle courses ahead of any non-emergency surgery.
Dr Sharon Hopkins, Cardiff and Vale University Health Board's director of public health, said: "The feedback has been positive and we have seen an increase in the number of referrals to the good eating and smoking cessation services."
She said evidence showed that people were more likely to succeed in adopting a "less risky" lifestyle when having to prepare for a significant event like surgery.
"This policy is about supporting patients, working with them, giving useful advice and support in losing weight and giving up smoking," said Dr Hopkins.
"Nobody has to quit or lose weight but there is clear evidence showing that any changes can reduce the risk of complications in surgery, reduce recovery time and improve your chances of a successful surgery.
"But some people do manage to quit or lose weight, which is absolutely great for them, their health and their surgical result."
The health board said around 2% of adults in Cardiff and Vale of Glamorgan residents were thought to have a BMI of over 40 and 21% smoke.
But Tam Fry, the spokesman for the National Obesity Forum, said in July the policy had not been thought through and questioned whether the cost of the courses would be justified by the results.
"We don't know what the course is and whether, or how successful they will be," he said.
"Then, during the course, the drop out rate may be quite high and you've wasted that money as well. Why bother to go through this, in my opinion."