Large fire tackled at Vale Business Park, Llandow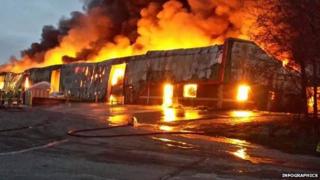 Nearly 90 firefighters have been tackling a large blaze at an industrial estate in the Vale of Glamorgan, the second fire in less than a month.
The incident is under control but the fire service expects to be at the Siteserv site at Vale Business Park in Llandow for a number of days.
A different Siteserv premises nearby was previously devastated by fire.
On Tuesday, fire crews from three stations were called to the old Georgia Pacific buildings at 05:14 GMT.
South Wales Police said the estate was closed and cordons were in place.
Vale of Glamorgan council said it would be "distributing further advice regarding the incident as further details become known".
It added: "South Wales Fire and Rescue are currently dealing with a large fire at units 2a and 2b on Vale Business park at Llandow.
"On arrival the crews faced a fully developed fire including various grades of recycled materials."
The fire service said two seats of fire had been discovered in a building.
"Crews are in the process of dealing with the fire and preventing any further spread to the surrounding properties," said assistant chief fire officer Andrew Thomas.
"As a precaution, we ask the public and local businesses to be vigilant as we move the necessary resources we require around the site and utilise the water supplies we need."
Smoke plume
Mr Thomas said it had been confirmed that there is no asbestos within the building but he still advised people to keep their windows and doors closed.
Cardiff Airport has been informed, as a large plume of smoke is in the air, but the airport said it had not caused any disruption.
One witness in Minehead, Somerset, said the smoke was visible from across the Bristol Channel.
Gareth Morgan, who works on the estate, said: "I have never seen smoke on such a grand scale.
"It's enormous. I personally have never witnessed a fire like that."
Mr Morgan said he had been told nobody would be allowed in the area for "at least 24 hours".
"We will be at least a day behind. We are not allowed in the office," he added.
"Unfortunately all our computers are there. The business will be on hold for a day."
Another witness, journalist Denis Campbell, from Monknash, said: "It was just a massive black plume going straight into the air.
"It was instantly clear it was a massive fire."
Earlier this month, an accidental fire on the same estate badly damaged another building owned by the Siteserv recycling company.
South Wales Fire and Rescue Service said Tuesday's blaze was different to the earlier incident.
In a statement Siteserve said: "We are working with both the fire service and police to establish the cause of the fire.
"In the meantime the management team has implemented its disaster recovery plan and otherwise we are operating as usual."