Wales rugby star Sam Warburton given honorary fellowship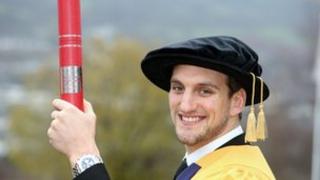 Wales and Lions rugby captain Sam Warburton has been awarded an honorary fellowship by the University of South Wales.
Cardiff-born Warburton, 25, who was the second youngest player to captain his country, called the award "one of the proudest moments of my life".
He was presented with the fellowship for outstanding services to rugby at a ceremony on Monday morning.
He said: "I'm living proof that you get out of life what you put in."
Warburton, who plays flanker for the Cardiff Blues, received his senior cap for Wales in 2009, and took the captain's armband in 2011 at the age of 22.
He became the youngest Lions captain after being chosen for the tour to Australia in 2013.
He said USW had a great reputation for sport, adding: "I am delighted that my career in rugby is being recognised in this way.
"I'm living proof that you get out of life what you put in, and that the sacrifices you make along the way do pay off and bring rewards which make it all worthwhile."
University vice-chancellor Julie Lydon said: "Sam Warburton is a superb example of talent that can be unlocked and taken to the very top level with hard work and dedication.
"We are very pleased to be awarding him with this honorary fellowship."