Varteg or Farteg: Council scraps idea to use Welsh spelling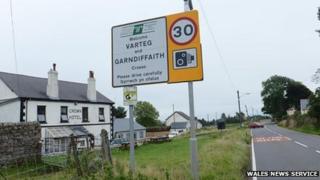 Plans to adopt the Welsh place name Y Farteg for the Torfaen village of Varteg have been scrapped due to "overwhelming" public opposition.
Torfaen councillor Richard Clark, who made the decision, said he had listened to residents' views before making up his mind.
Some villagers feared the community would be ridiculed if it was forced to include Y Farteg on signs.
The plan was proposed as many signs include both English and Welsh names.
There is no letter 'V' in the Welsh alphabet so Varteg becomes Farteg.
Mr Clark, who is Torfaen's cabinet member for health, social care, wellbeing and equalities, said he put the matter out to consultation in November after residents raised concerns.
There were worries the area would be laughed at and concerns it could have a negative impact on the nearby Blaenavon World Heritage site, he said.
A petition with about 170 names was submitted opposing the proposal and Mr Clark said public feeling against the plan was "overwhelming".
"Whilst we in Wales understand the pronunciation, outsiders will say it Fart-egg and that will bring the area into disrepute and the residents with it," he said.
"The overwhelming response was against and I have listened to that."
The latest consultation, which ended on 9 December, followed an earlier one in January 2013 which considered 22 Welsh place names across Torfaen.
After discussion, 'Farteg' was considered inappropriate and was not adopted at the time.
'Chuffed to bits'
Later the Welsh Language Commissioner proposed the alternative name 'Y Farteg', which its predecessor body, the Welsh Language Board, said should be used as the standard form in both languages.
Councillor Giles Davies, whose Abersychan ward includes Varteg, said the decision to drop the name was the right one.
"I think common sense has prevailed. I'm chuffed to bits for the residents in the village," he said.
"It's one thing for an outsider to say they have got to do it, it's the law, but if you live in the village and you don't want this change it's a different story."