Search for Nida Ul-Naseer, 18, missing from Newport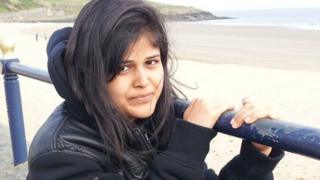 Gwent Police say they are in increasingly concerned for an 18-year-old woman who is missing from her home in Newport.
Nida Ul-Naseer has not been seen since last Saturday and did not contact any friends or family over the New Year.
Police are taking part in a search operation across the city.
Ms Ul-Naseer was last seen taking out rubbish at her home in Linton Street at about 20:00 GMT on 28 December.
Police are worried because she has not taken her medication with her and is likely to become anaemic without it.
Ch Insp Daniel Taylor, who is leading the search operation, said both police and her family are increasingly concerned for her welfare.
Bins
"She has gone missing from her home address, that is particularly the reason for the concern. There is no motive for it," he said.
"As far as we understand it she went out to the bins at the premises. That was the last time she was seen."
He said that forensic teams had examined the area and extensive searches have been carried out in the neighbourhood.
Mr Taylor added: "There is no forensic evidence that she has been taken."
He also appealed to anyone who may know Nida to come forward with any information they may have about her social circle.
"There must be other people out there who know Nida who are not necessarily known to the family" he said.
Specially trained search officers with dogs and horses are involved in the search and local officers will be distributing leaflets and conducting more house-to-house enquiries.
When she was last seen Ms Ul-Naseer was wearing jeans and a black top.
She is is of Asian-Pakistani appearance and has long dark hair, slim and 5ft 3in (1.6m) tall.
Gwent Police has asked anyone with information to contact 101 quoting log number 448 28/12/13.