Glyncoch residents collect and sell recycled rubbish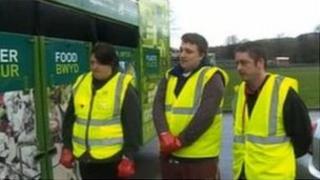 Residents in a south Wales valleys community have started collecting their recyclable rubbish and selling it on.
It is a job that has traditionally been carried out by local authorities but now people at Glyncoch in Pontypridd are carrying out the task themselves.
The money raised from selling the rubbish to recycling firms will go back into the community where people will get to vote on how it is spent.
Rhondda Cynon Taf council is providing a lorry and driver for the service.
Black bag collections will still be carried out by the authority but residents themselves are volunteering to staff the recycling service.
Local councillor Doug Williams says the project could become a model for other communities at a time of cuts in budgets and services by Welsh councils.
'Crowd funding'
"Unless people start doing things themselves then there is going to be loss," he said.
"It's going back to what communities used to do in the past where they did do things for themselves.
"Over the years over people have been doing it and it's just going back to where you take ownership."
It is not the first time the people of Glyncoch have come up with ways to improve their lives.
They have also managed to build a new community centre partly through "crowd funding" which encourages members of the public to put forward cash.
And organisers are talking to local companies and hope to get discount cards for people who join the recycling scheme.