Cardiff unlikely to bring Commonwealth Games bid forward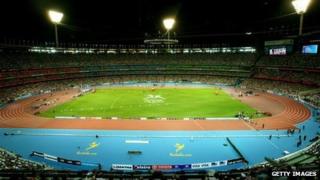 Cardiff is unlikely to step in to host the 2022 Commonwealth Games after the BBC revealed that no one had bid for the event.
The city council and Welsh government are conducting a feasibility study on whether to aim for the 2026 Games.
But when asked if they would bring that bid forward four years, the council said not unless there was a significant change to the study's timetable.
The deadline for 2022 bids is the end of March.
The council said no decision would be made until after this year's Commonwealth Games in Glasgow, which is being held in July - which is four months past the deadline for 2022 bids.
"The Welsh government is taking the lead in exploring the feasibility of a bid for the 2026 Games and Cardiff council is assisting in this process," a Cardiff Council spokesperson said.
'Only opportunity'
"However, we understand that no decision will be made on whether there will be a bid until after the Commonwealth Games to be held in Glasgow in 2014 has been evaluated, so it is too early for us to go into any detail at this stage."
The Welsh government has been asked to comment.
After Glasgow, the Games will move to Australia's Gold Coast in 2018.
However, there are fears for the event's long term future if a bidder for 2022 is not forthcoming.
"It would be devastating for Welsh sport if there were no Commonwealth Games," Anne Ellis, president of the Commonwealth Games Council for Wales, said.
'A real blow'
"This is the only opportunity for many Welsh athletes to compete at a world level, including able-bodied and disabled athletes together.
"It would be a real blow if there were no bids for 2022."
Ms Ellis was keen for Cardiff to host the Games, but wanted to see the feasibility study.
"My heart tells me that Wales ought to have the Games, but we would want all of Wales behind it," she said.
"I am very conscious of the other side of the coin, especially at a time of cuts to council services."
Glasgow 2014 has a budget of around £470m, compared with the £8.92bn budget London had to host the Olympics in 2012.
Cardiff last held the Commonwealth Games, then called the Empire Games, in 1958.