Nida Naseer still missing on 19th birthday as investigations continue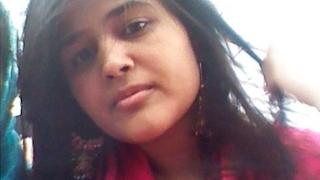 As the family of missing Nida Naseer quietly mark their daughter's 19th birthday, police investigations are continuing.
It is almost a month since the sixth-form student vanished while putting the bins out at her home in Pill, Newport.
Nida's family made an emotional video appeal on Friday in which they pleaded for her to come home and told her they loved her.
Gwent Police have said her disappearance remains a "mystery".
In Friday's appeal, her father Naseer Tahir pleaded for her to return, while her mother Najma Tahir and sister Shamyla Naseer said they could not live without her.
Mr Tahir said: "It's more than three weeks and we have still not found any clue about Nida and we are very worried about Nida, Nida's safety, and we are appealing again and again.
"If anyone knows about Nida, tell us. We just want [her to] come back - we are missing you Nida. Nida if you are listening, Nida come back, Nida we want you... we want you in any condition.
"Nida come back - your family love you. Nida please come back."
The force said no searches were being carried out on Saturday but investigations continued.
Last week, a CCTV image of Pakistan-born Nida, taken just before she disappeared, was released by the force.
But officers have not sourced any similar images of her since she disappeared.
At a news conference last week, the Henna Foundation, which gives Muslim families support and advice, appealed for her to return home.
But its chief executive Shahien Taj admitted Nida might not want to be found.
A team of 20 police officers have been dedicated to the search and have scoured the city since her disappearance.
They have searched near Coleg Gwent's Nash Road campus and Lliswerry High School, the Transporter Bridge, George Street bridge and the waterfront near Rodney Parade stadium.
No clues to what happened have been found.
It was revealed Nida's family sought asylum after coming to the UK from Pakistan five years ago. Their application was turned down a year ago and they are currently appealing.
They believe Nida vanished because their asylum-seeker status barred her from attending university.
The student wants to pursue a career as a marketing or finance manager, her family have said.
Nida was last seen wearing jeans and a black top. She has long dark hair, is slim and 5ft 3in (1.6m) tall.
When she disappeared she was not wearing shoes and did not have her phone, money or coat - with her.
Gwent Police want anyone with information to contact 101.