CityJet's Christine Ourmieres reveals Cardiff Airport hopes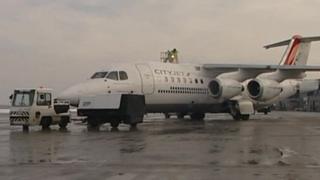 The airline CityJet says it is committed to Cardiff Airport and may look to expand services in the future.
Boss Christine Ourmieres made the comments on a visit to the airport where the company started flights to Glasgow and Paris earlier this month.
CityJet, which is part of the Air France group, is also starting routes to Edinburgh and Jersey from March.
Ms Ourmieres told BBC Wales the airline was looking to expand its operation and Cardiff was a "good business to start".
"Customers will have a very good service closer to where they live and, therefore, for a very good price," she said.
Asked whether she would look to expand operations at Cardiff, she added: "At this stage we are very open for any opportunity.
"It makes good sense for us."
The airport was bought by Welsh ministers for £52m in March last year.
CityJet announced it plans after airline Flybe revealed in December it was axing its flights from Cardiff to Paris and Glasgow from 19 January.
Cardiff Airport chief executive Jon Horne said bosses had been speaking to other airlines, including CityJet, to find a replacement in advance of Flybe announcing its summer 2014 schedule.
Regarding CityJet, he said: "In making the decision to come to Cardiff in the way they have and on the scale they have is really a clear indicator of their commitment and understanding to the market here, the airport and the people in Wales."